Server Bezels
Your own customized look
Available for numerous Dell and other OEM server models
11 Different Colors
8 Different Hole Patterns
High Quality Steel Construction
Other Custom Bezels are available
Select the style that represents your company best
For detailed information on bezel options, see the Bezel Design Guide
All the bezels in the Design Guide have passed Dell Airflow Testing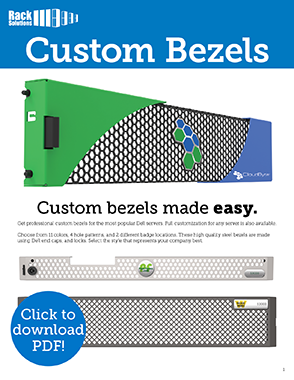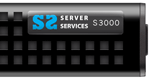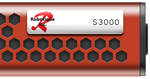 Custom Badges can be produced to match most Company Logos.
Custom Bezels - FAQ
Q: What Models of Dell Servers are the Bezels available for?

A: These custom bezels are available for any Dell PowerEdge rack servers.

Q: Where do I get more information or a formal quote?

A: Call or email RackSolutions sales at 903-453-0801.

Q: How are these Bezels made?

A: These high quality steel bezels are made using Dell end caps and locks

Q: Can we order less than 100 bezels?

A: Yes, we will accept an initial order of 50 bezels.

Q: Will RackSolutions have the decals made?

A: We strongly recommend that the customer work directly with Marking Systems for decal design and procurement. They are the experts in this area. Call or email Carmen Emerson at 972-475-0770 x231.

Q: Will RackSolutions apply the decal?

A: Most customers apply the decal themselves. This allows for multiple decal sets and for model number changes to be handled without affecting the bezel procurement process. RackSolutions will apply the decals if needed for a nominal fee.

Q: Can I get the bezel painted with a specific color?

A: We provide 11 colors as a standard offering. These colors will meet the majority of our customers' needs. We understand that some companies need to match a specific color. Lead time is 2-3 weeks. The order for custom paint will require a Non-Cancellable and Non-Returnable (NCNR) contract.

Q: Have the bezels been tested for airflow?

A: Yes. All the bezels shown on the Bezel Design Guide have passed Dell airflow testing. Airflow Report.

Q: Can RackSolutions make other custom bezels?

A: Yes. Call or email info@racksolutions.com at 903-453-0801 for more information.
Dell Custom Bezels - Technical Information
Server Fit
These custom bezels are made to the same dimensional standards as Dell factory bezels. The end caps and LED window are the exact same as used on Dell factory bezels, ensuring quality fit and server compatibility. The lock is also the same as Dell's, but the keys are not branded with Dell's logo.
Color
Each bezel is powder coated with quality Cardinal® paint. Choose from 11 colors. Custom colors are available with an additional fee for color matching. A brushed stainless steel finish is also available, which provides a beautiful look that resists visible finger prints.
Construction
The bezel is made from steel and manufactured on a state of the art Amada® turret laser. The bezel is supplied fully assembled and ready to install on the server. Badges are purchased and installed separately.
Badges
The badge choices are unlimited. Provided are 6 badge styles with full dimensions and Adobe® Illustrator® artwork. Marking Systems, Incorporated will assist in badge style selection and has a 24-48 hour prototyping process. Urethane "bubble badges" are a good choice for a professional look and reasonable minimum orders without custom tooling, see pages 8 and 9 for sizing and artwork guidelines.
For more information on badges call or email Carmen Emerson at 972-475-0770 x225.