The Rackmount Problem Solvers
We Design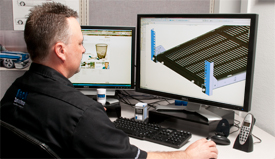 At RackSolutions®, we pride ourselves on being an engineering driven company. All of our precision computer server racks, cabinets, shelves and mounting products are designed and engineered under our own roof in the USA and held and delivered direct from the UK. With over a decade serving the data centre market our colleagues in the USA have developed product solutions for every major OEM. Better yet, our top notch staff of mechanical and electrical engineers are available to solve your toughest custom data centre installation design challenges. When one of our versatile mounting products still doesn't do the trick, we'll design the item you need from scratch. We're also very responsive. Our customers like the fact that we often provide a first article prototype before competitors have even supplied a quote. Typically we don't charge up front fees for design because we know other customers may have similar needs for an innovative product solution. We've learned that listening to you and providing quick and cost effective custom solutions helps us in the long run. Call John Linaker or e-mail today if can help at +44 (0) 1925 454093 or ukinfo@racksolutions.com.
We Build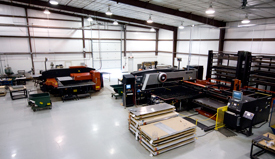 In order to meet our UK exacting production standards and rapid prototyping needs, we opened our own metal fabrication plant in 2005 in the USA. Our engineers in the USA thrive on the fact that the UK office can give them a racking problem outline and within days they can create a design to solve that problem. Within weeks we can then supply customers with a prototype from our own plant. We operate state-of-the-art Amada punches. Equipped with a laser and multi-tower, they also feature auto feeder complete finishing, bending, hardware insertion and kitting capabilities. We fabricate products from steel, galvanize, aluminum, Lexan and other flat sheet plastic materials. In addition to custom part fabrication, we handle assembly and finishing of complex products with multiple components sourced globally. Our quality control process ensures we deliver only products that have met our own rigorous standards.
We Ship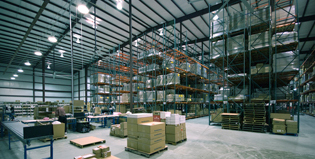 Our 15,000 square foot warehouse, the centerpiece of our UK distribution capability, is located in Warrington, Cheshire along with our corporate offices. With complete pick, pack and ship capability, we process hundreds of parcel and freight orders daily. Most domestic UK and European orders placed by 4:30 pm GMT are shipped the same day.