| Product Name | P/N: | Availability | Price | Qty |
| --- | --- | --- | --- | --- |
| 2U, 2Post Conversion Kit | 2POST-2UKIT | In Stock | | |
| 3U, 2Post Conversion Kit | 2POST-3UKIT | In Stock | | |
| 4U, 2Post Conversion Kit | 2POST-4UKIT | In Stock | | |
| 5U, 2Post Conversion Kit | 2POST-5UKIT | In Stock | | |
| 7U, 2Post Conversion Kit | 2POST-7UKIT | In Stock | | |
| 2U, 2Post Conversion Kit for Dell 2950 | 2POST-2UKIT-2950 | Call to Order | | |
Create a 4 Post cabinet on a 2 Post relay rack

Install a single rackmount server
Install the server where it's required

Utilize the complete rack
Create an entire cabinet or any portion needed
Quick and Simple Installation

Conversion brackets install quickly on a relay rack
Solid steel construction provides optimal strength

Brackets couple together for contiguous rack space
Provides ample support for large chassis systems
Conversion Brackets for Relay Racks, Telco Racks & 2 Post Racks - Product Line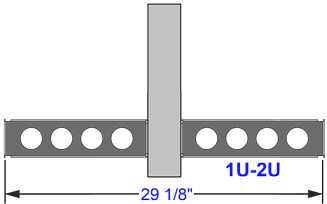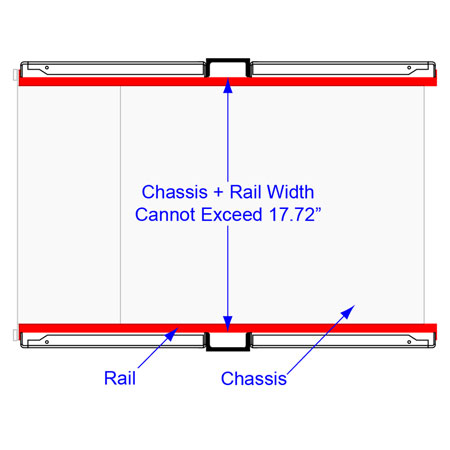 Features
In order to ensure that your equipment will mount properly using the 2Post Conversion Brackets, you must measure the width of your device's chassis (with the mounting rails installed) to see if the overall width exceeds 17.72". If it does, the Conversion Brackets may not work with your equipment. See illustration above for an example of how to measure the overall width.

The RackSolutions 2 Post, Center Mount Conversion, 2U-7U server rack mounting kits allow users to create both 4 post cabinets on a 2 post rack, or mount 4 post equipment on 2 post racks. For 4 post cabinets on a 2 post rack, the equipment is designed for quick and easy assembly and installation. It is also easy to customize the setup for server rack cabinets, allowing users to convert only the space they need, instead of engaging in a larger project than necessary. When the assembly is configured to handle 4 post equipment on 2 post racks, it is compatible with 3" uprights and Dell, HP, IBM and other major server types. This setup is preferred by most leading OEM manufacturers. The 2 Post, Center Mount Conversion includes a number of features to help users easily create a server rack solution that meets their specific needs. At its simplest, the assembly can be set up to support a single, rackmount server, allowing the user to customize the rack's location to match where the server needs to go. However, solid steel conversion brackets equipped with coupling capabilities let users combine the brackets to support multiple rackmount servers or create an entire server cabinet.
2 Post, Center Mount Conversion, 2U-7U - Technical Specifications
Rack Type
2Post
Bracket Dimensions
All brackets are 29 1/8" wide
Height depends on U size
Rack Units
2U, 3U, 4U, 5U or 7U
Hole Type
EIA standard square hole pattern for rack mount servers
Material Type
Solid steel construction
Finish
Black, powder coated
Included Hardware
(4) conversion brackets
(16) 12-24 slotted hex bolts
(10) M6x0.1mm pan head screws
(12) M6x0.1mm cage nuts
Assembly Notes
This 2Post Conversion kit creates a standard depth 4Post rack.
Equipment designed for square holes will typically install without issues.
Use the provided cage nuts and screws when threaded holes are required.