Features
These Data Center Open Frame server racks are compatible with Dell, HP and IBM servers and computers. They are also compatible with most other standard brands as well. These server racks meet the EIA standards for 19" server racks.The open frame server racks come in 48U height server rack, perfect for most any server room or data center. The width of the rack is the standard 24" width used in Data Centers and the 48" depth allows for additional PDUs and cable management. These racks also ship fully assembled and ship on a pallet .
Cable Management Bars
Each of these racks come standard with 2 vertical cable management bars. The 5" width of the cable management bars create enough room to mount 2 APC style PDUs side by side. The design allows for the cable management bars to be recessed for maximum airflow pass through.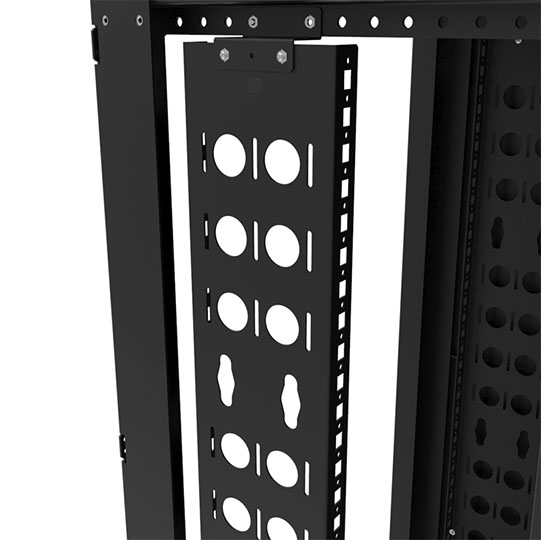 Casters & Leveling Feet Kit
The casters have the ability to move while fully populated with 3000 lbs. Once the rack is rolled into place it can then be set on the leveling feet.
Data Center Open Frame Rack - Technical Specifications
Finish
Durable, powder coat finish

Assembly Notes
Ships fully assembled on a pallet
Tech Notes

Static load capacity - 3000 lbs
Dimensions: 90.6"H x 24"W x 48"D
Includes 2 vertical cable management bars that are the same height as the U space.

Documentation

EIA 19" Rack
Square hole mounting posts
Multiple cage nut sizes fit in square holes