100-A Wall Mounts for Dell OptiPlex Micro PCs
Wall mount your Dell OptiPlex Micro PC
104-5005 - Fixed
104-4935 - Tilted
Creates a compact all-in-one solution and can mount under a desk
Uses 75 mm and 100 mm VESA hole pattern
All required mounting hardware is included
Customizable to your needs
Tilt bracket option available to adjust monitor
Works with most flat panel displays
Pairs great with our keyboard wall mount
Secure barrel lock is included with the lock upgrade (101-8412)
NOTE: See "Additional Information" below for compatibility. PC & Monitor NOT included.
The Dell OptiPlex Micro Wall Mount from RackSolutions takes the OptiPlex Micro's already ultra compact design and creates an all-in-one solution, leaving an even smaller footprint making it suitable for almost any work environment. The Dell OptiPlex Micro Wall Mount allows a monitor to be attached using 75 mm and 100 mm VESA hole patterns, making it compatible with most flat panel displays. There are two options when choosing a Dell OptiPlex Micro Wall Mount, a version that allows your monitor to tilt and one that stays fixed. The wall mount can also be mounted under a desk, keeping it hidden and out of the way. For added security, a lock upgrade using a secure bracket and barrel lock (included with the secure lock upgrade) is also available. The Dell OptiPlex Micro Wall Mount includes all required mounting hardware so all you need is a Phillips head screwdriver.
For more information on VESA Mounting Standards and what VESA stands for visit VESA Mounting Standards Explained (opens in a new tab).
Compatible Dell Products:
Dell OptiPlex 7000 Micro
Dell OptiPlex 7010 Micro
Dell OptiPlex 7040 Micro
Dell OptiPlex 7050 Micro
Dell OptiPlex 7060 Micro
Dell OptiPlex 7070 Micro
Dell OptiPlex 7090 Micro
Dell OptiPlex 9020 Micro
Dell OptiPlex 3020 Micro
Dell OptiPlex 3040 Micro
Dell OptiPlex 3046 Micro
Dell OptiPlex 3050 Micro
Dell OptiPlex 3060 Micro
Dell OptiPlex 3070 Micro
Dell OptiPlex 3080 Micro
Dell OptiPlex 3090 Micro
Dell OptiPlex 5000 Micro
Dell OptiPlex 5050 Micro
Dell OptiPlex 5060 Micro
Dell OptiPlex 5070 Micro
Dell OptiPlex 5090 Micro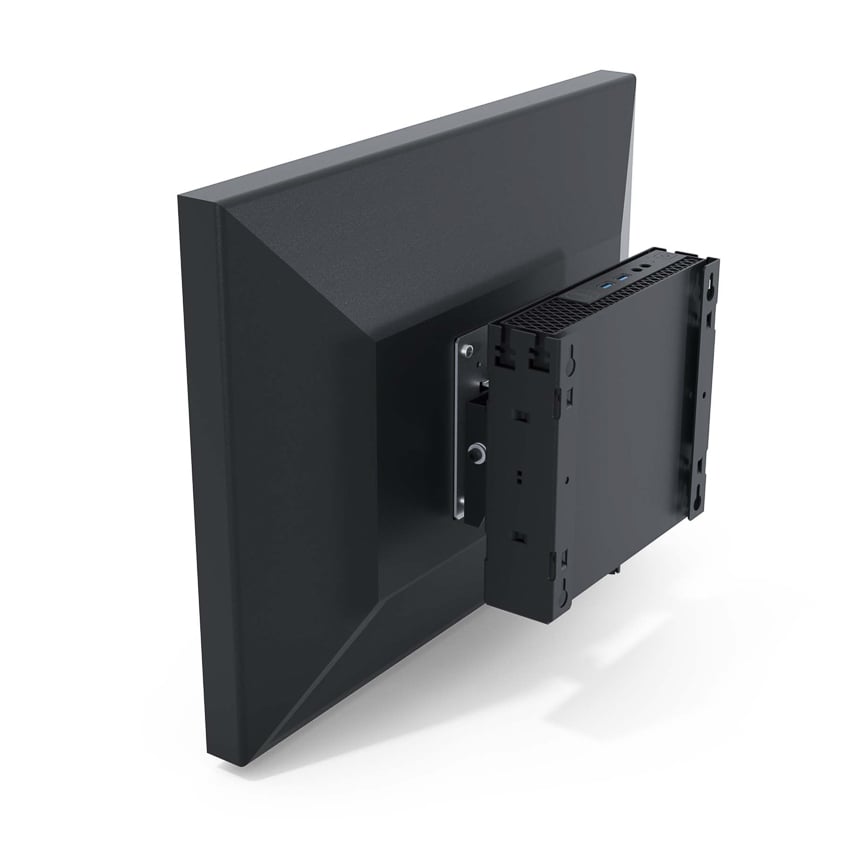 104-4935 - Tilted Bracket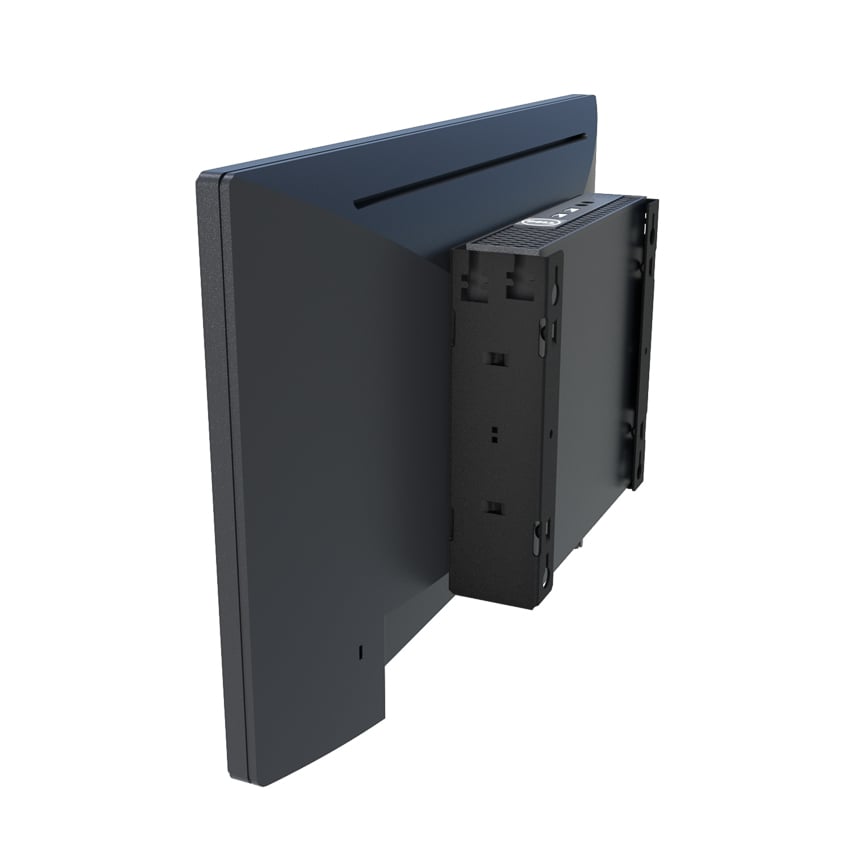 More Information
Country of Manufacture
United States
Included Hardware
104-4935 | 104-5005

Wall Mount Hardware Package:

(4) Drywall Anchors
(4) 8-32 x 1.250 Pan Head Screws

Assembly Components:

(1) Mount Bracket
(1) Tilt Monitor Bracket (104-4935 Only)

Tilt Monitor Bracket Hardware Package (104-4935 Only):

(4) 8-32 x 0.375 Pan Head Screws

Fixed Monitor Mount Hardware Package:

(8) Spacers
(4) M4 x 0.7 x 10mm Pan Head Screws
(4) M4 x 0.7 x 18mm Pan Head Screws
(4) M4 x 0.7 x 25mm Pan Head Screws

Compatible Products
Dell OptiPlex 3020 Micro
Dell OptiPlex 3040 Micro
Dell OptiPlex 3046 Micro
Dell OptiPlex 3050 Micro
Dell OptiPlex 3060 Micro
Dell OptiPlex 3070 Micro
Dell OptiPlex 3080 Micro
Dell OptiPlex 3090 Micro
Dell OptiPlex 5000 Micro
Dell OptiPlex 5050 Micro
Dell OptiPlex 5060 Micro
Dell OptiPlex 5070 Micro
Dell OptiPlex 5090 Micro
Dell OptiPlex 7000 Micro
Dell OptiPlex 7010 Micro
Dell OptiPlex 7040 Micro
Dell OptiPlex 7050 Micro
Dell OptiPlex 7060 Micro
Dell OptiPlex 7070 Micro
Dell OptiPlex 7090 Micro
Dell OptiPlex 9020 Micro
Dell PC Compatibility
OptiPlex 3020 MFF, OptiPlex 3040 MFF, OptiPlex 3046 MFF, OptiPlex 3050 MFF, OptiPlex 3060 MFF, OptiPlex 3070 MFF, OptiPlex 3080 MFF, OptiPlex 3090 MFF, OptiPlex 5050 MFF, OptiPlex 5060 MFF, OptiPlex 5070 MFF, OptiPlex 5090 MFF, Optiplex 7000 MFF, Optiplex 7010 MFF, OptiPlex 7040 MFF, OptiPlex 7050 MFF, OptiPlex 7060 MFF, Optiplex 7070 MFF, OptiPlex 7090 MFF, OptiPlex 9020 MFF
Dell Part Number
104-5005 - A8930316 104-4935 - A8930317 For a full list of Dell SKUs setup in the Dell ordering system visit our Dell SKU page.
Synnex Part Number
104-5005 - 4614617 104-4935 - 4614618
Ingram Part Number
101-7732 - 9CA727 104-5005 - 7BB558 104-4935 - 9CA726
Compatibility
Dell
Assembly Notes
Requires Phillips screwdriver
Dimensions
Fixed Monitor Outside Dimensions P/N: 104-5005
H x W x D = 7.06" (179 mm) x 7.69" (195 mm) x 1.91" (48 mm)

Tilt Monitor Outside Dimensions P/N: 104-4935
H x W x D = 7.06" (179 mm) x 9.32" (237 mm) x 1.91" (48 mm)

Finish
Black, textured powder finish
RoHS Compliant
Yes
TAA Compliant
Yes