As low as
£169.80
£141.50
Please call for shipping rates to Hawaii, Alaska and Puerto Rico.
Our desktop rack unit is available in 4U-9U front mounts and 12U-15U top mounts combining into 9 total configurations. The open frame rack desktop rack mounts 19" rack-mount equipment and holds 50 lbs per U capacity.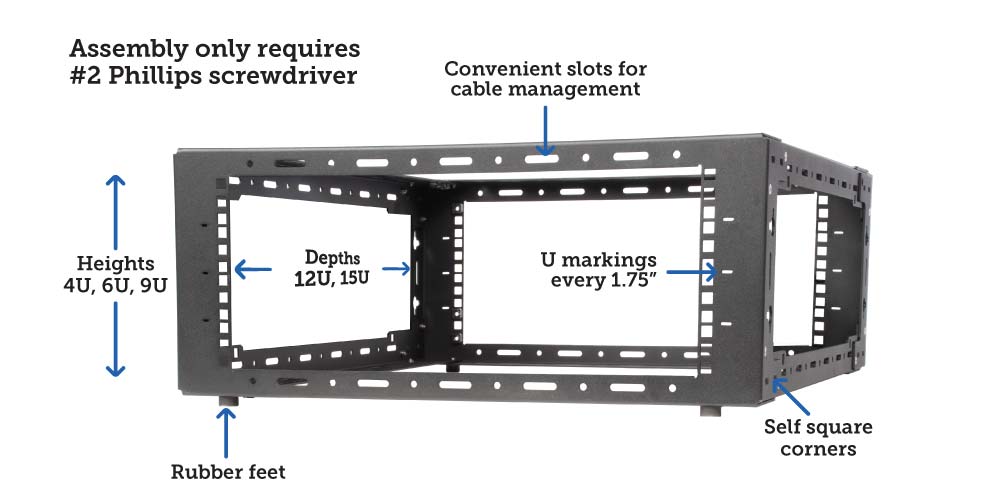 Desktop mount 19" equipment and servers
Optional side panels
Open design allows for optimal airflow
Easy cable access & tie points
---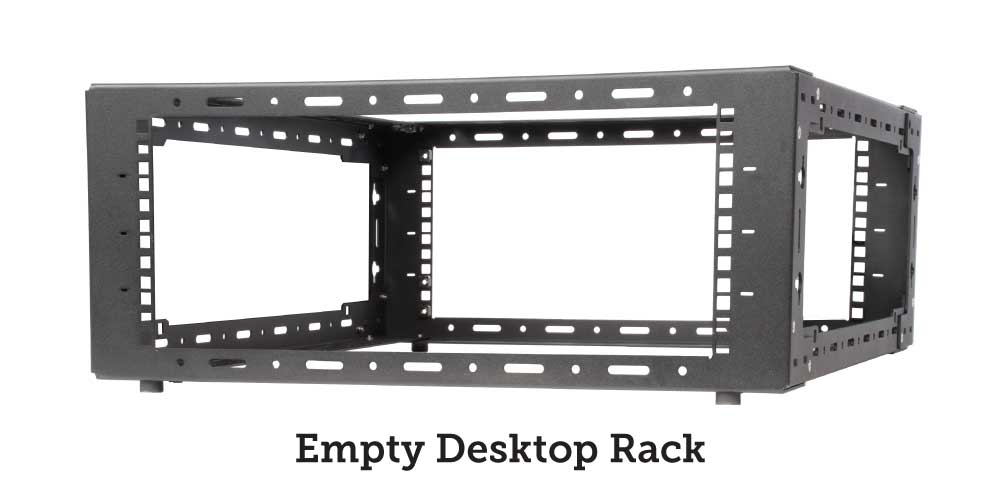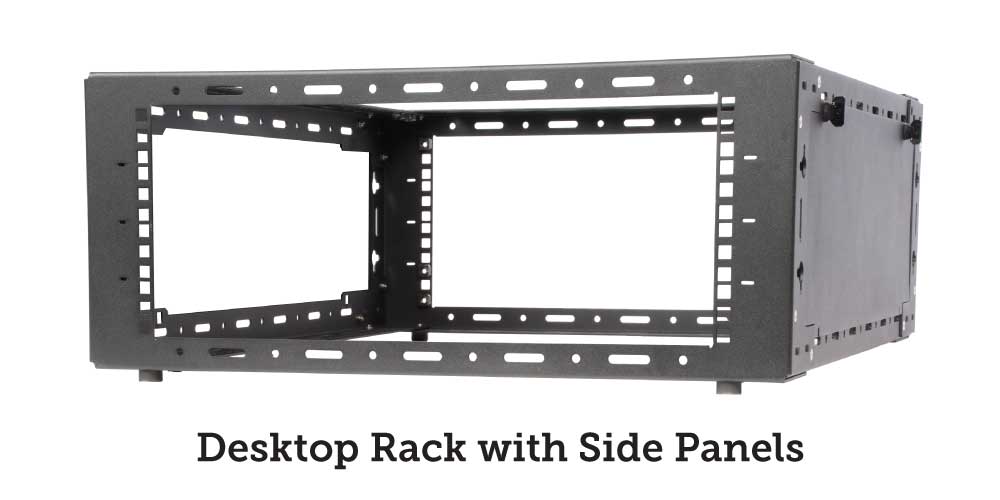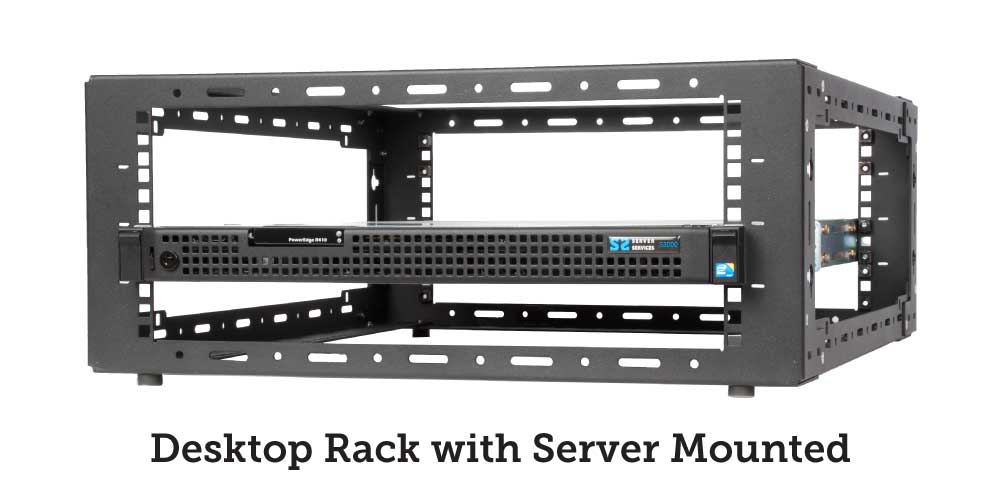 Our desktop rack is tool-less and non-locking. The desktop rack mount side panels come in 6 different sizes and are sold as single units. You must order 2 side panels per desktop server rack if you wish to install side panels on the left and right side of the desktop rack stand. The desktop equipment rack side panels are easy to install.
Side Panels
Filler Panels
Filler Panels may be used to fill in the open spaces on the front, back, and top of the Desktop Computer Rack.
Power Strips
Any of these horizontal power strips will easily mount to the top, front, or back of this Desktop Rackmount Kit.
Front U space X Top U space
Overall Height X Overall Depth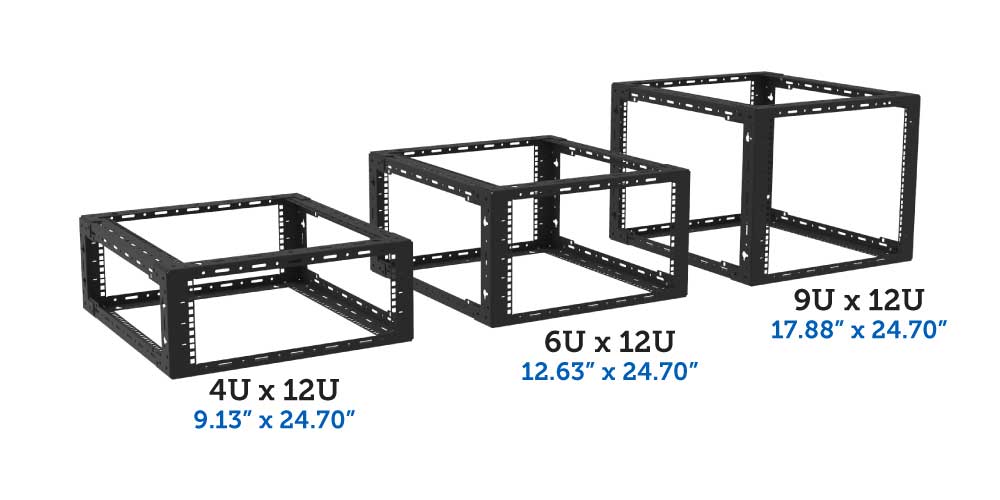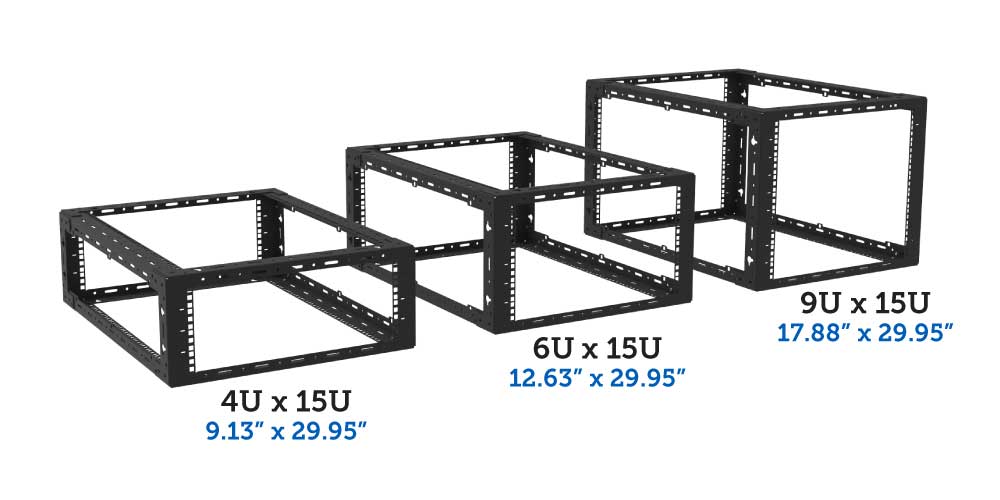 Wall Mount Conversion
Our desktop rack also is capable of being wall mounted. There are four mounting keyholes on what would be the top and bottom of the rack when sitting on a desk.
When the rack is mounted to studs on all four keyholes, it will have a weight capacity of up to 400 lbs depending on the choice of U height. Small equipment can be mounted vertically on the wall while full sized servers will need to be mounted horizontally
More Information
Country of Manufacture
United States
Included Hardware

Kit Contents:
Assembly Hardware Kit:

(32) 10-32 x .375" Flat Head Screws

Mounting Hardware Kit:

(4) .25" Hex lag Screws
(4) .281 Flat Washers

Rack Mount Hardware Kit:

(20) 12-24 x .500" Pan Head Screws
(20) 12-24 Cage Nuts

Rack Type
4 Post Rack, Open Frame
Hole Type
Square
Rack Internal Width
EIA 19" Standard Rack
Dell Part Number
119-1591 (4U) - A4973686
119-1752 (12U) - A4603637
119-1781 (15U) - A4915238
119-1754 (6U) - A4986314
119-1755 (9U) - A4603652
For a full list of Dell SKUs setup in the Dell ordering system visit our Dell SKU page.
Ingram Part Number
102-1865 - 1P2724 102-1866 - NB8636 102-1868 - RT4578
Finish
Black, powder coated
Assembly Notes
Assembly time is less than 10 minutes
Requires only a #2 Phillips Screwdriver
Rack Units
4U, 6U, or 9U front mount 12U, 15U, 21U top mount
RoHS Compliant
Yes
TAA Compliant
Yes
Dimensions
Vertical: 4U, 6U, 9U in front and rear Horizontal: 12U, 15U, 21U on top