Features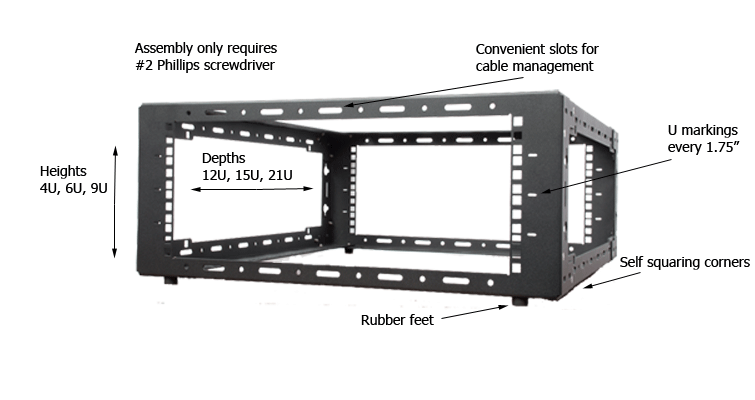 Sizes

Side Panels

These tool-less, non-locking, side panels come in 9 different sizes and are sold as single units. You must order 2 side panels per rack if you wish to install side panels on the left and right side of the rack. Desktop rack side panels are easy to install.
Filler Panels
Filler Panels may be used to fill in the open spaces on the front, back and top of the Desktop Rack.
Power Strips
Any of these horizontal power strips will easily mount to the top, front or back of this Desktop Rack.
Open Frame Desktop Rack - Technical Specifications
Finish
Black, powder coated
Included Hardware
(2) Frames
(4) Posts

Assembly Hardware Kit
(32) 10-32 x .375" Flat Head Screws

Mounting Hardware Kit
(4) .25" Hex Lag Screws
(4) .281 Flat Washers

Rack Mount Hardware Kit
(20) 12-24 x .500" Pan Head Screws
(20)12-24 Cage Nuts
Assembly Notes
Assembly time is less than 10 minutes
Requires only a #2 Phillips Screwdriver