1U 115 Sliding Equipment Shelf
As low as
£216.00
£180.00
Easy Slide Shelf with Cable Management and Stop Bars
Cable management arm, equipment stops included with shallow rack shelf
Tower-to-Rack conversion - Great for mounting tower servers or PCs
Thumb screws lock the shelf in place when needed
High quality ball bearing slides
Fits Any 4 Post Rack
Weight Capacity: 95lbs (43kgs)
Shelf Depth: 22" (558mm)
Mounting Depth: 10 - 28" (254 - 711 mm)
Compatible with round, threaded, or square rack holes
See "Additional Information" for Technical Specifications.
RackSolutions equipment shelves are compatible with most 19" EIA standard server racks. Our equipment shelves have a 95 lb equipment capacity and will support a wide variety of electronic equipment.
Computer equipment up to 22" deep can be supported on a 19 inch equipment shelf. The slide rails extend a full 18" on this shorter equipment shelf model. The shelf includes a removable front equipment stop bar, adjustable rear equipment stop bar, anti-slip mat and optional straps for securing equipment for transport or seismic applications.
Cable management bars are optional, but extremely useful in managing cable slack when sliding the shelf in and out.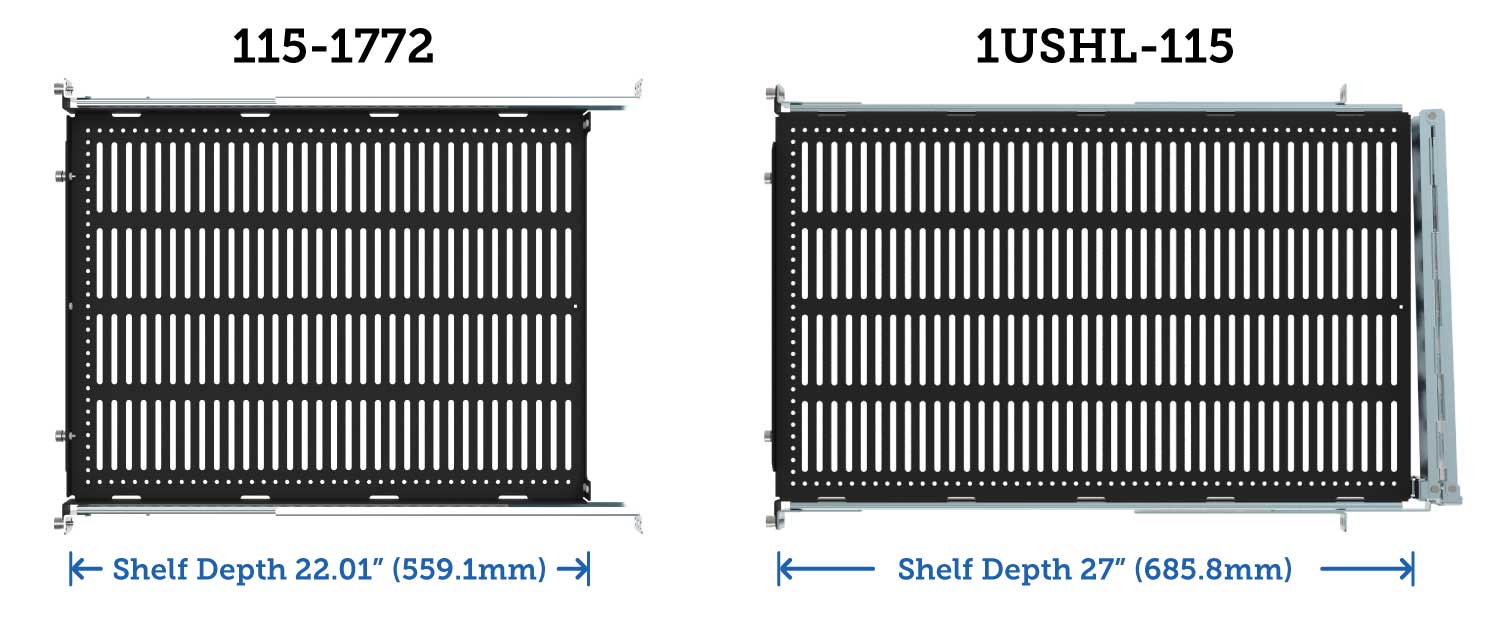 More Information
Country of Manufacture
United States
Included Hardware
115-1892

Kit Contents:

(1) Partially Assembled Shelf
(1) Anti-Slip Mat 12"x15"
(1) 50" Hook and Loop for Cable Arm

Brackets:

(2) Rear Rack Brackets
(1) Removable Front Stop
(1) Adjustable Rear Stop
(1) Arm Extension Bracket
(2) Cable Management Arms
(2) Arm Attachment Brackets

Assembly Hardware Kit:

(4) 8-32 x 3/8" Flat Head Screws
(7) 8-32 x 3/8" Pan Head Screws
(7) 8-32 Nuts
(3) 2.5" Clevis Pins & Cotter Pins

Rack Mount Hardware Kit:

(8) 12-24 x 1/2" Screws
(8) 10-32 x 1/2" Screws
(8) 12-24 Square Nuts
(8) 10-32 Cage Nuts

115-1893 Adds:

(2) 3U Tall 2Post Brackets
(12) 12-24 Bolts for Relay Racks

Dell Part Number

115-1772 - A9753598
115-1892 - AA569322
Synnex Part Number
115-1772 - 5204754 137-1525 - 5204758
Ingram Part Number
115-1772 - UX6182 137-1525 - TJ7571
Assembly Notes
Removable front equipment stop bar
Adjustable rear equipment stop bar
Anti-slip mat included
Optional straps for securing equipment for transport or seismic applications

Equipment Depth
22" (558mm)
Shelf Type
Vented
Rack Type
4 Post
Fixed/Sliding
Sliding
Shelf Surface Area
22" L x 16.5" W (558 x 419 mm)
Finish
Textured, powder-coated black
Mounting Depth Range
19" - 30" (482mm - 762mm)
Weight Capacity
95lbs (43kgs)
Rack Units
1U
Tool-less/Standard
Standard
Hole Type
Compatible with round, threaded, or square rack holes
TAA Compliant
Yes
RoHS Compliant
Yes