1U Sliding Keyboard Shelf
Keyboard tray for server consoles
PS/2, USB rack mount keyboard included
USB conversion cable included
Keyboard plug is 54.5" long
Cable management arm, hook-and-loop cable ties
Space for mouse, pens, supplies
Dell, HP and IBM compatible
Fits any 4 Post rack
Fits square, round, and threaded holes
Installation depth from 19 - 30.2" (482 - 767 mm)
1U rackmount keyboard
NOTE: Belkin or Raritan KVM Switches are not compatible with these products.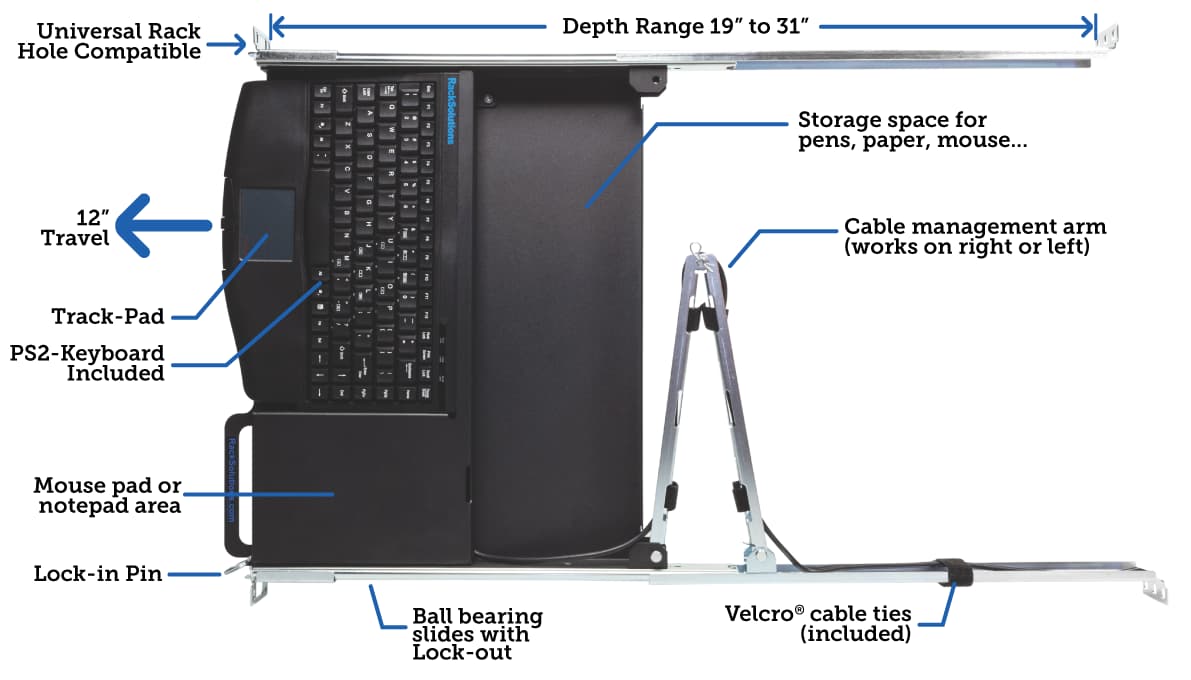 Our 4 Post sliding keyboard shelf comes with a keyboard and the shelf is manufactured in the USA.
2 Post Mounting
The 1U rack mount keyboard installs into any 19" standard 4 Post server rack and occupies the minimum amount of space. The rack mount keyboard will install into server racks with installation depths from 19" - 31" (483 - 787 mm) The rack mount keyboard has 88/89 keys and a 54.5" long plug, with the functionality of a 104/105 rack mount keyboard device. With the purchase of the PS/2 keyboard, the Rack Solutions USB-PS2 Dongle is included.
More Information
Country of Manufacture
United States
Included Hardware
1UKYB-126-USB | 1UKYB-126-PS2

Kit Contents:

(1) Partially Assembled Shelf
(1) Mini Black Keyboard (USB or PS2)
(2) Rear Brackets
(1) Cable Management Bracket
(2) Cable Management Arms

Assembly Hardware Kit:

(6) 8-32 x 3/8" Phil Flat Screws
(6) 8-32 Nuts
(1) 30" Hook and Loop
(1) 11/16" Cotterless Hitch Pin with Pull Ring
(3) 1/4" x 1 3/8" Clevis Pin
(3) .059" x 1 1/8" Cotter Pin

Rack Mount Hardware Kit:

(8) 12-24 x 1/2" Pan Head Screws Zinc
(8) 10-32 x 1/2" Pan Head Screws
(8) 12-24 Cage Nuts
(8) 12-24 Square Nuts

KVM Type
Keyboard Shelf
Rack Type
4 Post Rack
Tech Notes

Interface: PS/2 (USB conversion dongle is available)
Layout: 88/89 keys have the functionality of a 104/105 rack mount keyboard
Embedded numeric keypad and 12 dedicated function keys

Assembly Notes
Phillips head screwdriver required
Fixed/Sliding
Sliding
Keyboard Specs
8.50" X 11.25 " X 1.00"
Dell Part Number
1UKYB-126: A0431056
1UKYB-126-USB: A5653383
For a full list of Dell SKUs setup in the Dell ordering system visit our Dell SKU page.
Synnex Part Number
1UKYB-126-USB - 5386862
Ingram Part Number
1UKYB-126-USB - GV9062
RoHS Compliant
Yes
TAA Compliant
Yes