Open Frame Wall Mounted Rack
As low as
£227.99
£189.99


Please call for shipping rates to Hawaii, Alaska and Puerto Rico.
6 configurations for any application
Wall mount networking equipment or servers
Wall mount 19" rack mount equipment
Front mount up to 15U of rack equipment
Top mount up to 9U of servers (use 15U [29.95"] height)
Open design allows for optimal air flow
Easy cable access & tie points
Convenient U space markings
Applications
Patch panels & network devices
Small, peripheral devices
Servers or storage systems
Installations requiring moderate security
---
Wall Mount Rack Features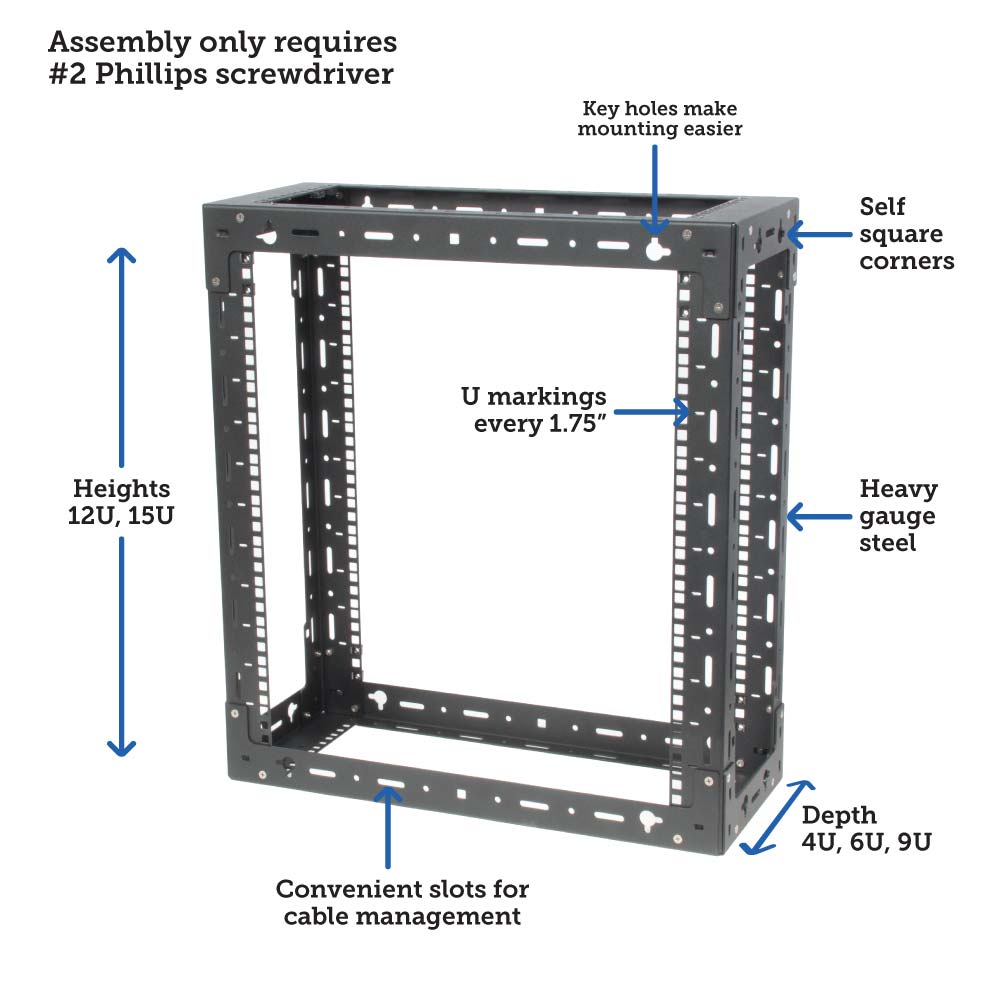 ---
Wall Mount Rack Size Options
Front U space X Top/bottom U space
Overall Height X Overall Depth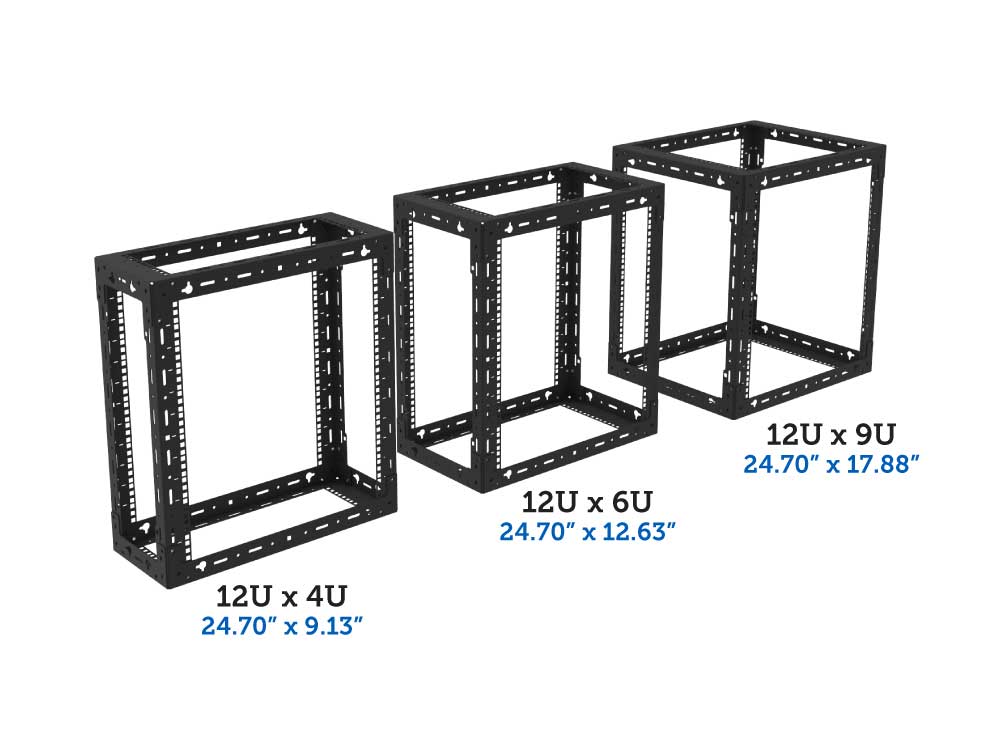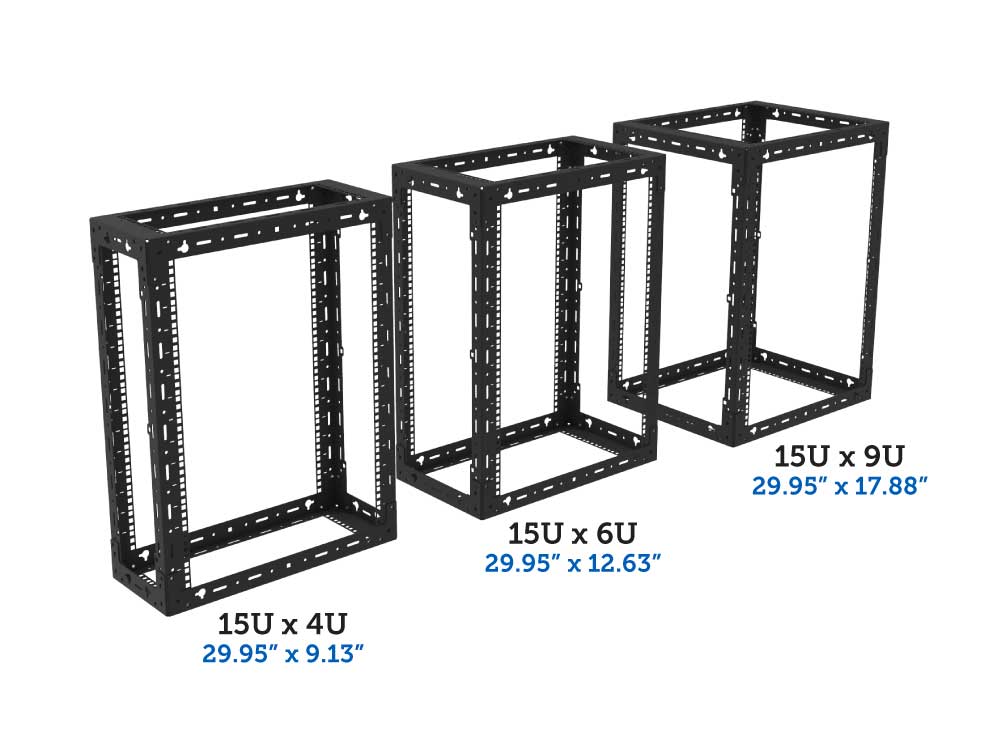 ---
Side Panels and Front Cover
These tool-less, non-locking, side panels come in 9 different sizes and are sold as single units. You must order 2 side panels per rack if you wish to install side panels on the left and right side of the rack. Wall mount rack side panels are easy to install. Front Covers for the Open Frame Wall Mount Rack are available in 12U and 15U sizes.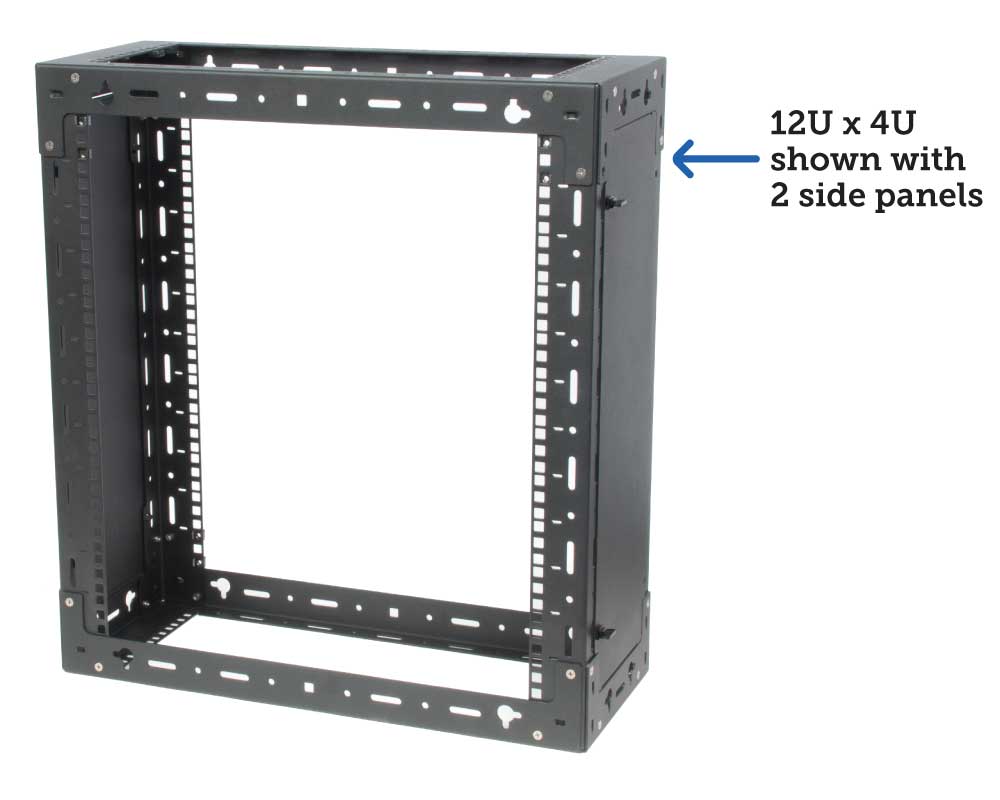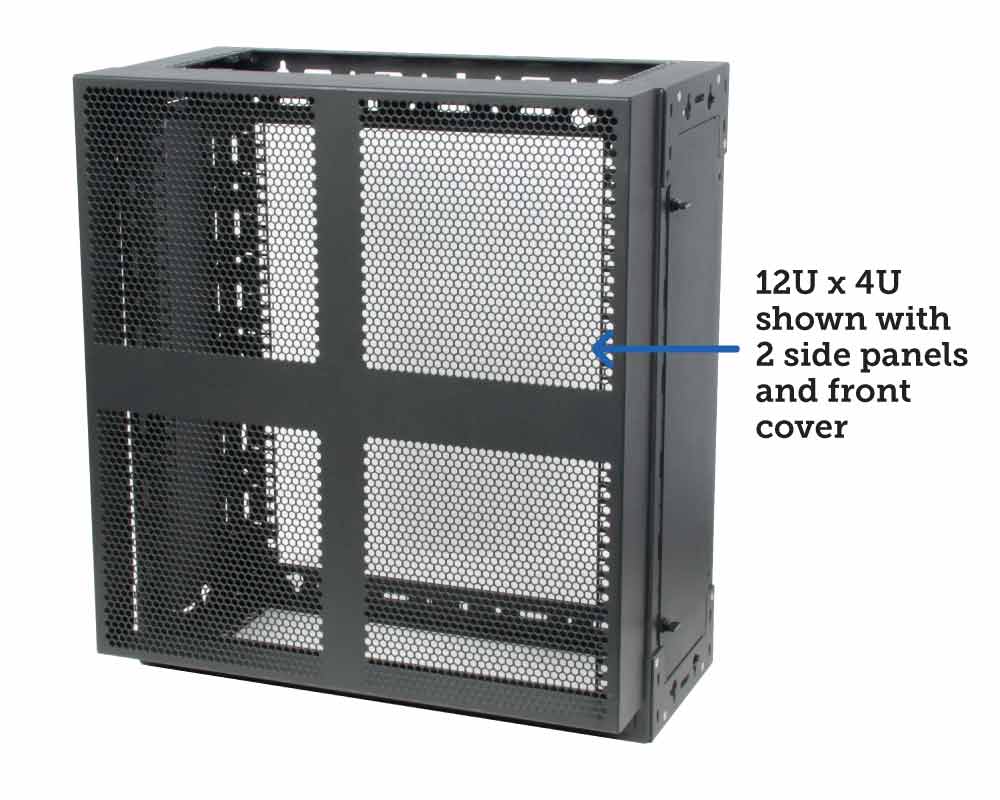 Shelves
These solid or vented shelves made for 2 post racks fit nicely in this Wall Mount Rack. Depending on the depth of the rack you select, you may choose a 7" or 13" shelf. They're great when you need a place to set a wireless access device or another piece of equipment that doesn't mount in a rack.
---
Blanking Panels
Tool-less Filler Panels may be used to fill in the open spaces on the front, top or bottom of the Wall Mount Rack. To the right, on the left, is a photo of a Wall Mount Rack with 4U of space on the top. A 3U filler panel encloses most of the top but leaves 1U of open space. In the image on the right, a power distribution unit has been installed in the previously available 1U of space. Standard Filler Panels are also compatible with the Open Frame Wall Mount Racks.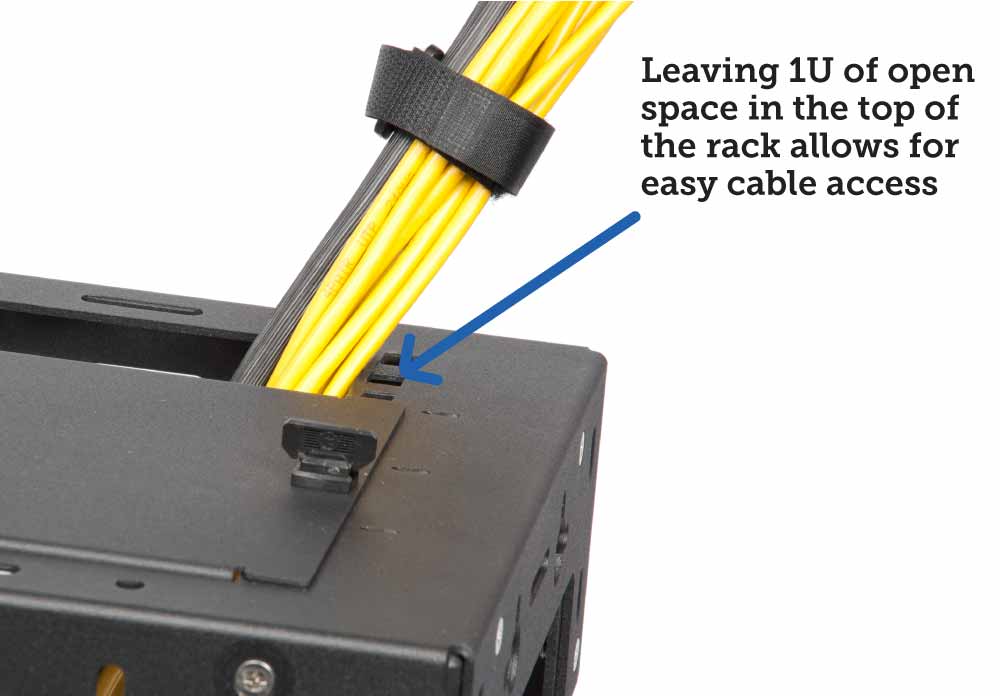 Power Strips
Any of these horizontal power strips will easily mount to the top, bottom, front or back of this Wall Mount Rack.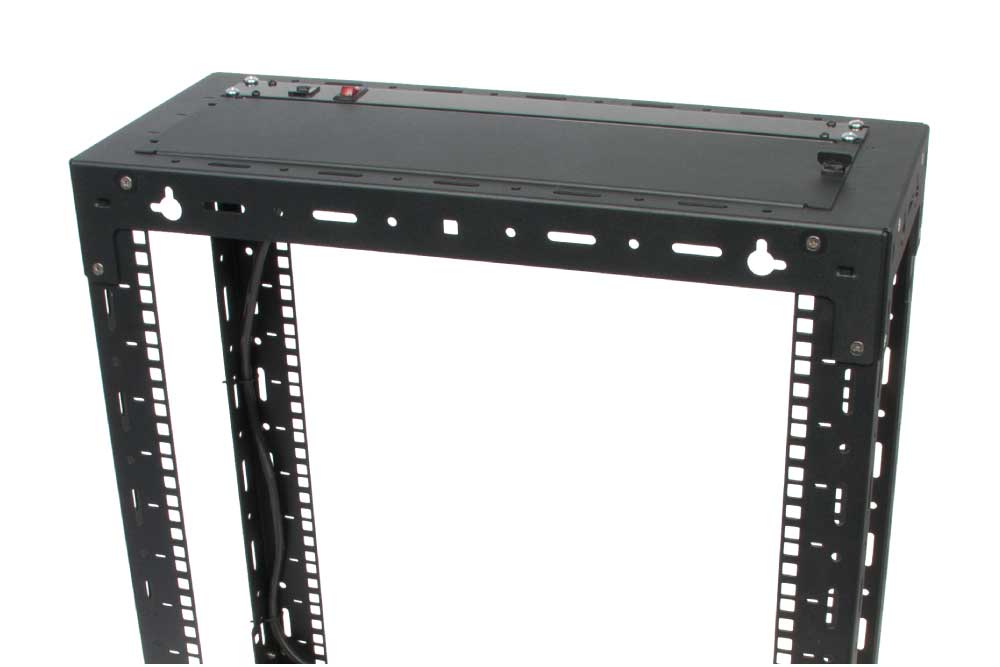 ---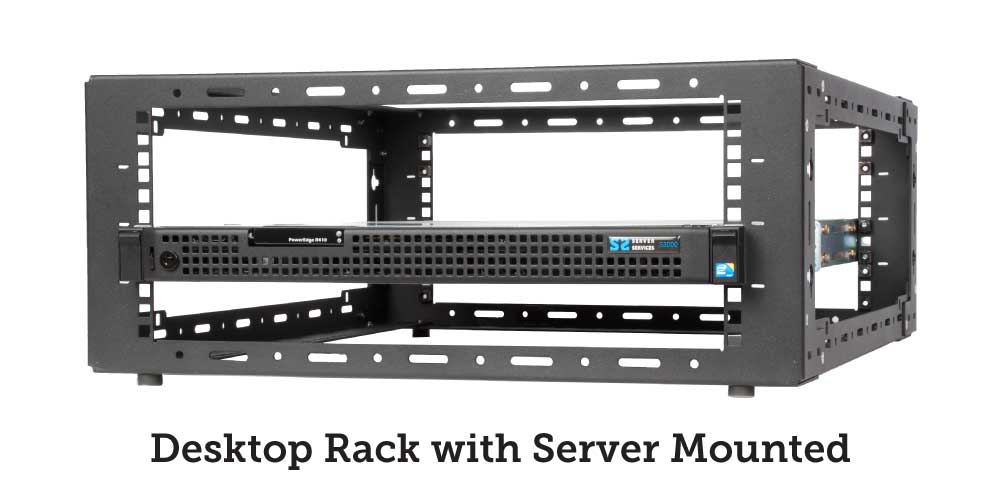 Desktop Conversion
The Open Frame Wall Mounted Rack is bundled with rubber that can easily attach to a hole near the mounting keyholes. This allows for easy transformation into a desktop orientation.
To convert from a wall mount rack to a desktop rack, simply attach the rubber feet to the rack.
More Information
Rack Type
Open Frame, Wall Mount
Rack Internal Width
EIA 19" Standard Rack
Dell Part Number
119-1752 - A4603637
102-1869 - A8943424
102-1863 - AB365802
For a full list of Dell SKUs setup in the Dell ordering system visit our Dell SKU page.
Included Hardware
(2) Frames
(4) Posts

Assembly Hardware Kit
(32) 10-32 x .375" Flat Head Screws

Mounting Hardware Kit
(4) .25" Hex Lag Screws
(4) .281 Flat Washers

Rack Mount Hardware Kit
(20) 12-24 x .500" Pan Head Screws
(20)12-24 Cage Nuts
Assembly Notes
Assembly time is less than 10 minutes Requires only a #2 Phillips Screwdriver
Rack Units

Vertical:

12U, 15U, 21U heights

Horizontal:

4U, 6U, 9U depths top and bottom

RoHS Compliant
Yes
TAA Compliant
Yes
We found other products you might like!